Chiropractic Care for Slip and Fall Injuries at Southport Chiropractic
While we all do our best to protect ourselves, slip and falls can happen to anyone. Although you may seem fine after the accident, it's essential to seek professional care immediately. We often see patients suffering from severe pain or discomfort because their symptoms we left untreated. If you are looking for non-invasive treatment for your injuries, our team at Southport Chiropractic in Fairfield is here to help. Our chiropractors can diagnose the root cause of your condition and provide the appropriate treatment to alleviate the symptoms and prevent them from reoccurring.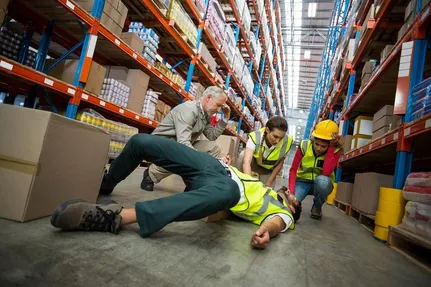 What Are Slip and Fall Injuries?
Slip and fall injuries can range from mild to severe. People who slip and fall may suffer from injuries such as lacerations, back pain, head trauma, contusions, fractures, head injuries, sprains, or strains. Injuries that result from a slip and fall accident can stay with you for the rest of your life if not treated properly.
Why Seek Medical Attention After a Slip and Fall Accident?
Whether you've twisted your ankle or hit your head during a slip and fall, don't brush off the fact that a serious injury may have occurred. If pain is felt somewhere after slipping, this could be a sign of muscle strain or ligament sprain. If you suspect that you have suffered one or more injuries due to a slip and fall, our chiropractors at Southport Chiropractic will work with you throughout your recovery.
How Can a Chiropractor Help with Slip and Fall Injuries?
During your first consultation, our chiropractors will discuss your current symptoms and assess your physical health and medical history to determine the root cause of your pain or discomfort after a slip and fall. Imaging tests like x-rays or MRI scans may be required to rule out other health-related issues or understand the severity of the condition for a thorough diagnosis. This will help us create a treatment plan that's personalized for your needs and wellness goals. Treatment plans often include chiropractic adjustments, massage therapy, corrective exercises, and nutritional and lifestyle counseling.
Visit Us for Personal Injury Recovery in Fairfield
To learn more about how we can help you get back to living a pain-free life, don't hesitate to contact us today! At Southport Chiropractic, we are dedicated to providing our patients the care they need to naturally reduce pain and improve their range of motion. If you'd like to know more about what type of services we offer, please feel free to take a look around our website. You can also call us at (203) 259-1555 to schedule your first appointment. We will be happy to help you throughout your wellness journey.